From October 2021 we will resume presential activities. All our shows are adapted to Covid protocols with masks and distancing and all members of Moving On have a Covid Passport. We will adapt each show according to the changing conditions and, what's more, if there are limits on audience numbers, we will be flexible in order to reach all of your students
We will be on tour with these activities, both dealing with climate change and the environment:
Secondary, Bachillerato and Adults – Going Underground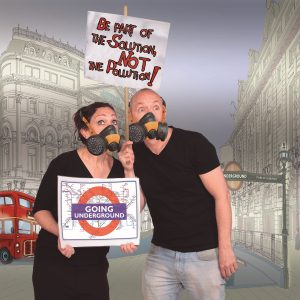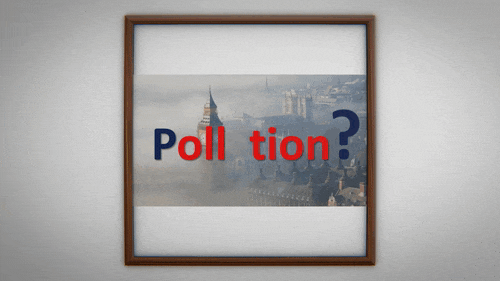 Post- Pandemic London, 2024: once again the syren warning of dangerous levels of air pollution goes off, and everybody heads to the nearest Tube Station to take refuge. Harry works in Down Street Station that serves as a shelter for people in moments of high pollution in the city.
Bob is a reporter on her way to the emergency conference for pollution and Climate Change but, finding herself forced to take shelter from the polluted air, it seems she will never get to her destination and won't be able to broadcast her report, critical with the lack of strict measures to guarantee the future of the planet.
The situation will take everybody today sheltering in the station on a hilarious and highly educational journey through London on it's famous Underground to tell the truth to the world and convince governments that it is time to act.
 Suitable for and adaptable to all levels of Secondary, "Bachillerato" and Technical Education. It comes with highly educational teaching material that includes the songs from the show. Entirely in English and performed by native speaking actors from Great Britain. The show lasts approximately 65 minutes. Maximum Audience: depending on local and/or temporary restrictions.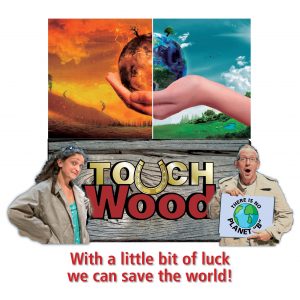 Somewhere in England, 1962: Harry, the owner of a hotel in ruins in an isolated town, receives a letter from someone who wants to buy the hotel. Excited by the possibility of another life away from his birthplace, Harry does everything possible to impress the buyers. However, not everything is as it seems and the apparent representative of the buyers does not appear to be exactly who she says she is.
As the paths of our two protagonists cross, everyone will find themselves involved in a comical tangle that will catapult us all to the twenty-first century where the world is drowning in plastic and Bob and Harry will have to work extremely hard to clean up the hotel and its surroundings in order to survive.
The show is a comical look at superstitions and it involves us in the task of looking after our environment to save the earth from ecological disaster, teaching us that our future is not a question of luck.
A comical, musical, participatory show in pure Moving On style for students of English from 3rd year Primary upwards. The show lasts approximately 50 minutes. Maximum Audience: depending on local and/or temporary restrictions. Teaching Material with written and listening exercises and the two songs sung live all included. The topic of the Material is "Superstitions and the Environment".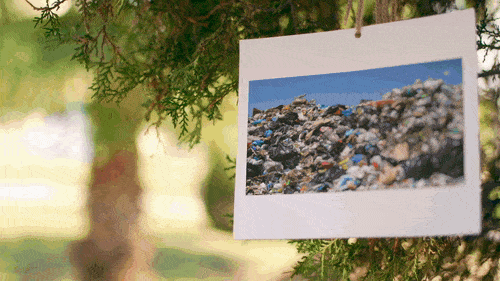 "Los chicos se lo pasaron genial. Muchas gracias por todo. Espero que nos veamos el próximo curso."
Adela Amores – Profesora de inglés
IES Valle del Tiétar – Arenas de San Pedro (Ávila)

"la participación de los mismos alumnos en la obra es una iniciativa muy positiva, que hizo que se sintieran más motivados para el aprendizaje de la lengua…"

Conxita Badia


Jefa del seminario de Lengua Inglesa – IES Torredembarra (Tarragona)

 
"Dinámico, con humor inteligente e inteligible para todos los niveles de la escuela…..¡Genial!" "
 Ana López
Profesora de inglés EOI de GETAFE

"Steve Jesson……todo un hombre-orquesta."
EL MUNDO

"..me sorprendió mucho la energía y las ganas con la que se puede lograr hacer sonreír a muchísima gente"
Soufian Boussouf Himmiten, alumno de IES Puig Castellar
Sta. Coloma de Gramenet (Barcelona)

"Debo felicitaros por vuestro excelente trabajo y fantástica actuación. Los actores han sido realmente estupendos, comunicativos, expresivos, divertidos y se han dejado la piel para agradar a nuestros alumnos" "
Marta Riera, profesora de inglés
IES SA Palomera – Blanes (Girona)
"Estuvieron ayer aquí los chicos y ¡resultó genial! Estuvo muy animado y divertido y lo pasamos estupendamente bien…¡Muchas gracias y hasta la próxima!""
Patri Fernández Alberca
EOI Alicante


GOING UNDERGROUND
London, 2024. High pollution levels require drastic measures. Join Bob and Harry on the famous London Underground in an amazing adventure of comedy, music and protest to convince world leaders that we still have time to save our world.
.........
In 2021-22 we will return to the stage with presential theatre. If there are any restrictions, we will adapt. If we have absolute normality, our participatory theatre will be back with even more comedy, music and themes of social interest. Whatever happens.....we will see you again in the theatre!
..........
A funny, musical look at superstitions. The show involves us in taking care of the environment to save the world from an ecological disaster, and reminds us that our future is not just a question of luck.
..........