Technical Requirements and Financing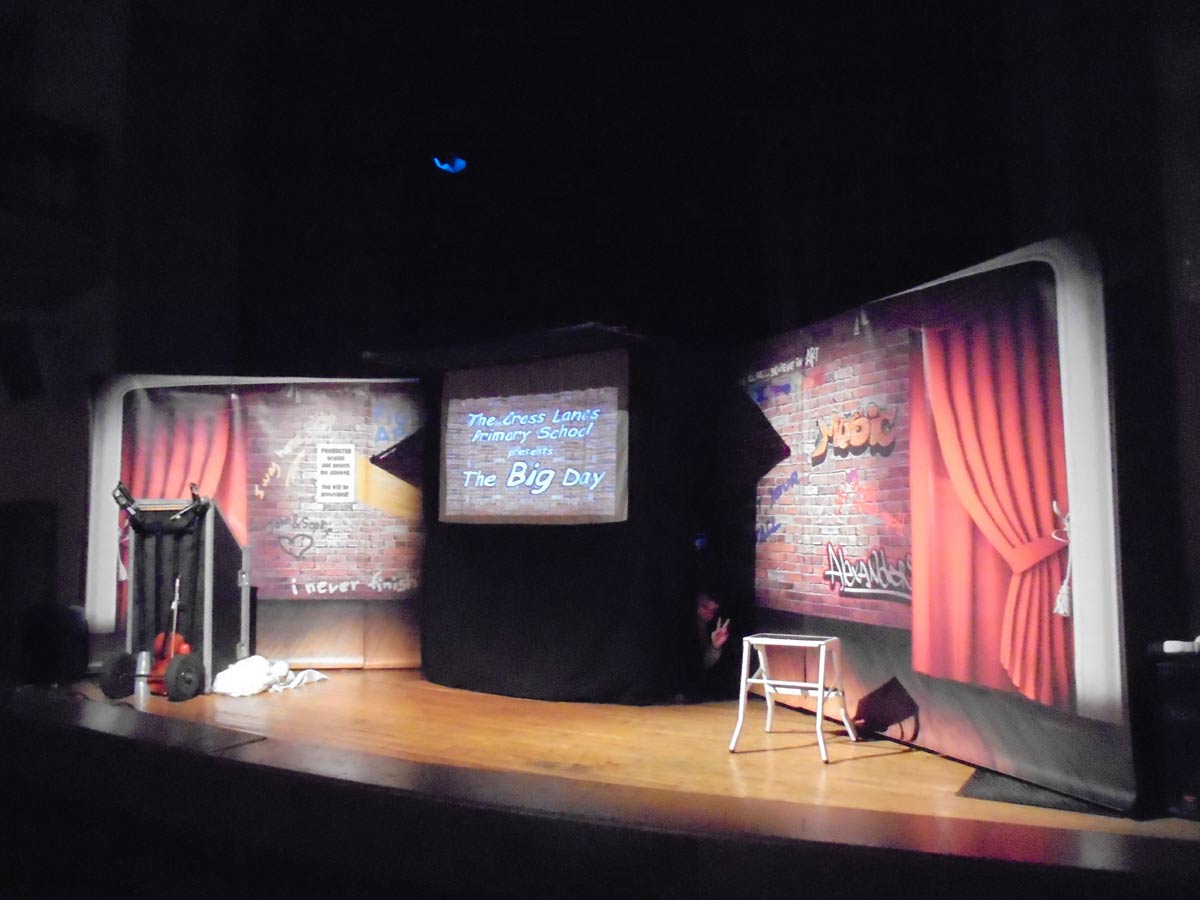 Ideas for financing the activity: Publishers, Parent Associations and Students can all help in financing this type of activity in your schools.
We can perform our shows in almost any space: School Theatre, Multi-purpose room, Gym, Cultural Centre or Municipal Theatre. We bring a set and a sound and image system. We need 1 hour to set up and another to take down. Máximum of 300 students in each show
"…desataron las carcajadas de los 300 estudiantes, que practicaron la asignatura sin apenas advertirlo."
La Voz de Galicia
"…la comunicación que establecen con el público es constante y los espectadores se ven implicados en la trama teatral sin oponer resistencia…"
La Crónica 16
"…vienen demostrando que el aprendizaje del inglés no tiene por qué estar unido al aburrimiento…"
El Diario Vasco
"Los chicos se lo pasaron genial. Muchas gracias por todo. Espero que nos veamos el próximo curso."
Adela Amores – Profesora de inglés
IES Valle del Tiétar – Arenas de San Pedro (Ávila)

"…la participación de los mismos alumnos en la obra es una iniciativa muy positiva, que hizo que se sintieran más motivados para el aprendizaje de la lengua…"
Conxita Badia – Jefa del seminario de Lengua Inglesa
IES Torredembarra (Tarragona)

"Pretende familiarizar a los estudiantes de inglés con un lenguaje más vivo y directo que el que contienen los libros de texto"
EL PERIÓDICO
"…no necesitan demasiados guiños de complicidad para meterse al público en el bolsillo…"
EL PAÍS
"Ha sido todo un éxito, especialmente con los alumnos de bachiller y 3 y 4 de secundaria. Les resulta especialmente gratificante ver que pueden entender perfectamente la obra y tanto participar como ver a sus compañeros en escena"
Estibalitz Sarrionandia
IES Dolores Ibarruri - Gallarta (Bizkaia)

"..la obra nos gustó muchísimo. Nos pareció muy dinámica y que supo atrapar enseguida a los chavales, y hacerles participar. Se lo pasaron muy bien, incluso muchos de mis alumnos me dijeron que les había parecido genial y les había encantado. Así que todos encantados con vosotros.."
Paloma Goenaga
Profesora en Colegio Berrio-Otxoa (Bilbao)


GOING UNDERGROUND
London, 2024. High pollution levels require drastic measures. Join Bob and Harry on the famous London Underground in an amazing adventure of comedy, music and protest to convince world leaders that we still have time to save our world.
.........
In 2021-22 we will return to the stage with presential theatre. If there are any restrictions, we will adapt. If we have absolute normality, our participatory theatre will be back with even more comedy, music and themes of social interest. Whatever happens.....we will see you again in the theatre!
..........
A funny, musical look at superstitions. The show involves us in taking care of the environment to save the world from an ecological disaster, and reminds us that our future is not just a question of luck.
..........